Categorical Page
Commerce:
One of our ongoing projects is to find the names of the early businesses that existed in Star Valley up through the 1950's. The list below represents the beginning of our search. If you have knowledge of other businesses, Email us with the information so we can include it here.
A. D. Taysom Dry Goods
Afton Post Office
Afton Rexall Store
Alan Wolfley Store
Allred's Store (Fairview)
Alma Wolfley Groceries & Dry Goods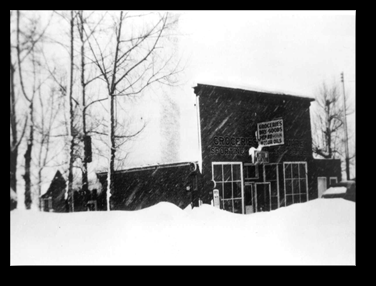 Alpine Hotel (Alpine)
Alpine Post Office
Allred's Store (Fairview)
American Theater (Thayne)
Arthur Roberts General Merchandise
Auburn Cash Store (Auburn)
Auburn Post Office
Bateman Swimming Pool (Etna)
Bedford Creamery
Bedford Post Office
B. F. Welch Confectionary (Afton)
Blacksmith Shop (Charlie Anderson & Elias Smith)
Blacksmith Shop (Roe Hale & Dave Williamson)
Brick Kiln (Fairview)
Brog and Hemmert Store
Brown Hotel (Fairview)
Call's Cafe (Alpine)
Call's Hall (Afton)
Call Service Station
Cariboo Gold Mining District, Wyoming
Chapman Service and Post Office (Etna)
Charlie's Garage (Charlie O'Keefe)
Chas Brown Mercantile (Fairview)
Christoferson Hotel
Cottonwood Lake Dance Hall
Cottonwood Lake Hotel
Cottonwood Lake Sawmill
David E. Roberts General Store (Etna)
Dixon's Service Station (Dixon Burton)
Don Wood Tractor (Afton)
E. B. Rolfe & Co. (Etna)
Enoch Hillyard Store (Auburn)
Etna Mercantile Co. (Etna)
Etna Post Office
Fairview Brickyard
Fairview Post Office
Farmer's Feed Store (Thayne)
Fred's Cafe (Afton)
Freedom Post Office
Gamble Stores (Afton)
Gephart Stores Co. (Afton)
Gillette Call Harness Shop
Golden Rule Store (Ed Lewis)
Grover Post Office
Haderlie Motor Company (Thayne)
Halfway House (Crow Creek)
Harness Shop (Afton)
H. H. Harrison General Merchandise (Auburn)
Hotel Allred & Store (Nelson Allred)
Hub Hotel (Afton)
Jack Sizemore Blacksmith (Etna)
Kingston and Hurd Mercantile (Afton )
Linford Hardware Company
Livingston Hotel & Cafe (Thayne)
Lower Valley Drug (Thayne)
Lower Valley Power & Light Co-op (Etna)
Mutual Creamery
Nelson & Hymas Millinery (Thayne)
Ole A. Jensen Co-op (Fairview)
Oneida Salt Works (Auburn)
Osmond's Hotel (Thayne)
Palmer Store (Thayne)
Passion Pit Dance Hall (Alpine)
Peter Pan Coffee Shop (Thayne)
Price-Knight Mercantile Co. (Thayne)
Red Star Motor & Mercantile (Thayne)
Reuel Call Bulk Plant (Afton)
Roy Palmer Barbershop (Etna)
Sawmill - Planing & Shingle (Charles Henry Haderlie)
Sawmill (Soldier Creek)
Schwab's Sawmill (Smoot)
Sinclair Gas Station (Alpine)
Smoot Post Office
Star Valley Creamery (Afton)
Star Valley Drug
Star Valley Hotel (Afton)
Star Valley Mercantile
Star Valley Pioneer (Afton)
Texaco Station (Afton)
Thayne Post Office
Thomas W. White Lumber Mill (Thayne)
Thrifty Drug Store
Utah Oil Refining
Vail Coal Mine (Greys River)
Valleon Hotel
Valley Vineyard (Afton)
Welchman Sawmill (Charles & Alvin Welchman - Smokey Canyon)
White Sawmill (Thayne)
William Walton Burton Mercantile Company
Wollenzien Service (Afton)
---
Communications:
Telephone Service
by Clarissa Merritt
The Mountain States Telephone and Telegraph Company completed a telephone line from Montpelier, Idaho to Afton by way of Crow Creek in the year 1902 and on to Freedom in the year 1903.
Conrad Vaterlaus was the first manager. The office was in a small building where the bank now stands. Fannie Yeaman Roberts was the first operator.
Osborne Lowe took over as manager from 1907 to 1909.
At this time there are 12 operators working at the Afton office with three working most of the time. During busy hours as many as 600 calls are handled in one hour. There are now approximately 800 patrons.
The first call from Afton to Montpelier in 1902 was made by Mrs. Archiso Corsi to her husband at Montpelier to tell him to come home because ther baby daughter (Mrs. Homer West) wasn't expected to live. Mr Corsi was hauling freight from Montpelier to Afton. Mrs. Corsi told us that when Mr. Corsi went to pay for the call, the manager told him there would be no charge because it was the first call made over the line.
---
Energy:
Electric Power in Afton
by Clarissa Merritt
In the year 1906, Osborne Lowe filed a water right on the water in Swift Creek for an Electric Light plant to serve the Afton area. The surveying was done by Dave Roos of Freedom.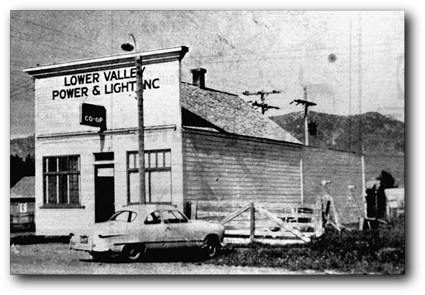 In the year 1907, a Mr. Slusser from Denver built a plant with Osborne Lowe owner of the water right. The plant and equipment cost about $6,000 dollars.
Afton and its needs soon outgrew the service this plant could give and it was sold to a group of citizens who formed a Co-op. It changed again in 1933 when the present owner C. J. Call bought it. The plant is located in Swift Creek Canyon east of Afton. This plant serves the people and businesses of Afton and farmers for several miles in each direction. There are two diesel engines housed in the old plant to be used for emergency.
First Lower Valley Power and Light building located in Freedom (1937-1954) is pictured to the right.

This article was extracted from the 9 April 1987 Star Valley Independent: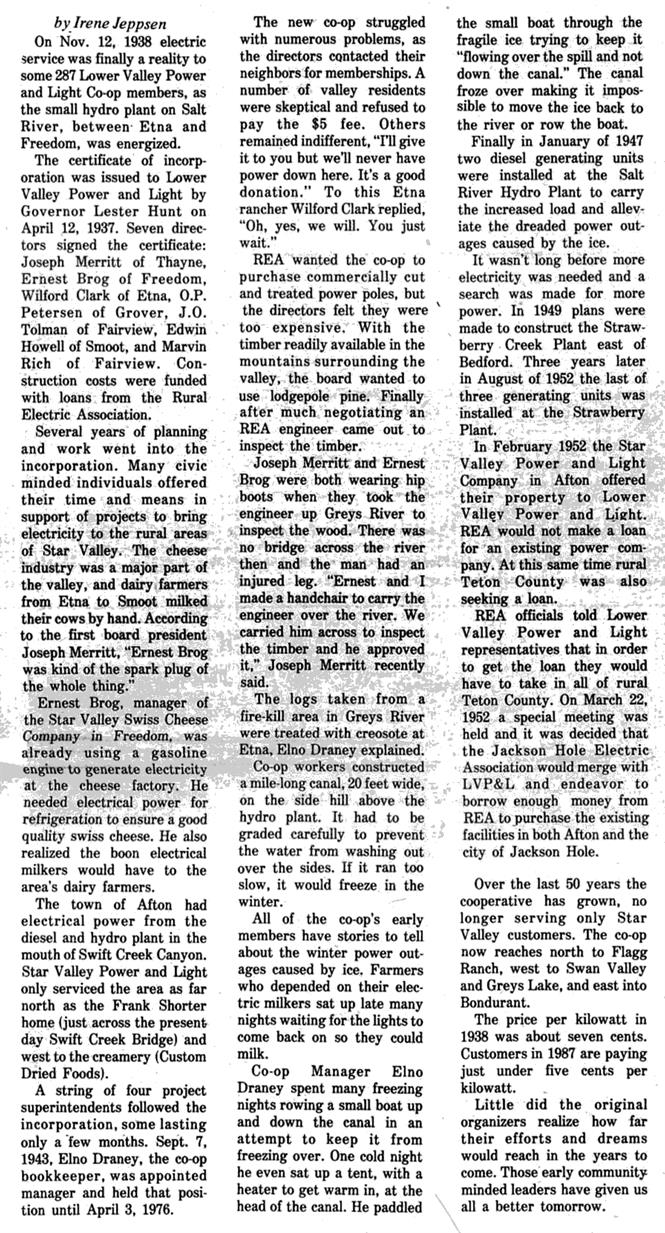 ---
Finance:
Afton State Bank (pictured to right)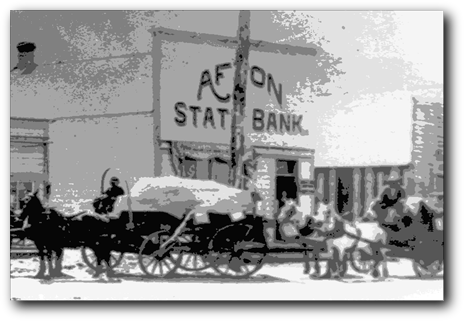 Freedom State Bank
Star Valley State Bank
---
Medicine:
Medical Care
by Clarissa Merritt, Estella Gardner & Allie Hyde
Pioneer women were heroines, braving the mountain wilds, fearlessly accepting their precious heritage, that of motherhood, rearing large families and making attractive homes from dug-outs or cabins. The most outstanding of these, perhaps, was Constance Stephens Eggleston, wife of Orson H. Eggleston, who had a God-given ability for relieving pain and suffering. She came to Star Valley in 1884. She was always willing to help anyone and if a team was seen or heard on the run, day or night, all knew it was probably Sister Eggleston to help out in a time of accident or sickness. This capable woman rendered her services freely. If the family were poor, there was no charge, otherwise it may have been one dollar and never more than five. She served the Valley for over fifteen years, officiating at the birth of more than a thousand babies.
The first medical doctor, Arthur V. Stroughton, located in the Valley in 1889 and was welcomed by the people. Dr.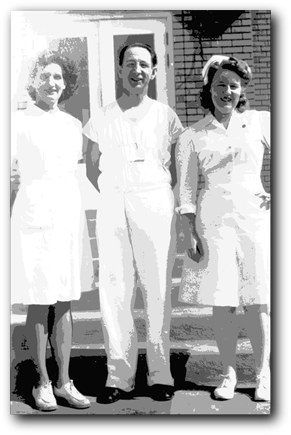 G. W. West came to the Valley in 1903 and has since lived in Afton. He is still living (1951) but during the last few years has given up his medical practice. For some forty-five years he served the people, being always the true country doctor; braving all kinds of weather, going by horseback, sleigh, wagon and even on foot. There are few homes in Star Valley who haven't benefited by this man's administrations. It was not uncommon for him to spend the night sitting by the bedside of some sick patient and many were cared for by his devoted wife in their own home.
Dr. L. C. Proctor was the first permanent dentist in Star Valley. He came in 1905, located in Afton and is still practicing (1951).
It wasn't until about 1913 that a hospital was started. At that time Stake authorities induced the Presiding Bishopric of the L. D. S. Church to help start a hospital. The old two story tithing building which stood on the corner of the lot used by the Highway Department, across from the Thomas J. Call home, was remodeled, equipped and made into the first hospital in the Valley.
Joseph Rackstraw and Clarence Gardner served as supervisors and Doctors Olsen, Anderson, Ellison and the Reese Brothers (Lafayette and Byron) practiced while it was in operation. Facilities were poor, however, especially heating, and it didn't last long. The next attempt was made by Dr. Beal. When R. C. Heiner build the present Post Office building in 1931, the second story was planned for a hospital and run by Dr. Beal until his death when Doctors Trealoar and Worthen took over. Because of insufficient space, Dr. Trealoar moved across the street into the Cliff Haderlie building.
In 1940, Dr. Samuel H. Worthen bought land across from the Afton North Ward and, from plans made by his father, began construction on a modern up-to-date hospital. In 1941 came Pearl Harbor and, because of his entrance into the service, Dr. Worthen was obliged to stop work on the hospital. He persuaded Church Authorities in Salt Lake to take over the building. It was finished in 1944 and is, at the present time, under the supervision of the Stake President E. Francis Winters. Dr. Samuel H. Worthen, Dr. O. L. Treloar and Dr. D. S. Mack Wray have their offices there.
Doctors - 1895-1920
Dr. LeRoy Pugmire
Dr. Raphael S. Olsen
Dr. Andrew Anderson
Dr. Lafayette Rees
Dr. Byron Rees
Dr. T. A. Ellison
Dr. O. F. Otte
Dr. T. E. Betensen
Dr. M. S. Fink (Thayne)
1904: Dr. G. W. West, a graduate of Barns Medical School of Washington University, St. Louis Mo., came to Afton, where he lived until his death. He delivered over 4,000 babies as a general practitioner before his retirement. He served as County Health Officer and weathered a number of epidemics, including the Spanish Influenza outbreak of 1918 and a smallpox epidemic some years later. His home was used as a hospital and was seldom without patients. His kitchen was his operating room. He made office calls everywhere in the Valley.
1913: Afton's first hospital, a two story building put in use by the LDS Church, was located at the corner of Washington St. and Second Ave. (present Lazy B Motel location).
1918: Star Valley was hit amazingly hard by the Spanish Influenza Epidemic. While an estimated 21 million deaths occurred nationwide, approximately l5 deaths occurred in the Valley during October-December. All communities were quarantined with Fairview being hit the hardest. Star Valley authorities ordered locked gates at highway entrances into and out of the Valley for a period of time. One medical doctor, Lafayette Rees, died while trying to save lives.
1920: Dr. D. O. Beal, a skilled surgeon, who had been wounded in WWI, practiced in the Valley. His skill was such that a good many people who believed they did not have a chance of surviving an illness, or walking again, were healed or made well through his services. Dr. Vivian White practiced a few months in the Valley during this period.
1929: Dr. O. L. Treloar came to the valley at age 26. He planned to stay only a few years, but Star Valley got the best of him, and he stayed much longer. During WWII, he was the only doctor in the Valley. His clinic and hospital were located downtown in Afton on Main Street. He delivered over 3,000 babies during his practice, and became a maternity specialist.
1935: Dr. S. H. Worthen, born in Salt Lake City, completed his medical studies at Chicago, Il., and took an internship at the Salt Lake County Hospital before coming to Afton. Like Dr. Treloar, he basicallly had his own hospital in a downtown upstairs location. He started construction of a new hospital on the corner of Adams Street and Fourth Avenue in Afton. Before its completion, he was called into military service during WWII from 1941-1945. He demonstrated outstanding surgical skills and was advanced to head of a surgical unit in Virginia. After the war he returned and resumed practice in his new hospital which later became the Star Valley LDS Hospital.
1956: Dr. O. D. Perkes, after graduating from the University of Utah and serving an internship at St. Benedict's Hospital in Ogden, Utah, arrived in Afton with his wife, Anna Marie and two children. After the retirement of Dr. Treloar and death of Dr. Worthen, he found himself essentially the only doctor in Star Valley for the next seven years. He claimed he has never missed a day's work due to illness, has been on call 24 hours a day, and makes house calls to his elderly patients.
---
Military:
Star Valley Casualties
World War I:
Oscar Cazier
Frank Coziah
Harmon Draney
Lynn Jenkins
Frank Kinyon
World War II: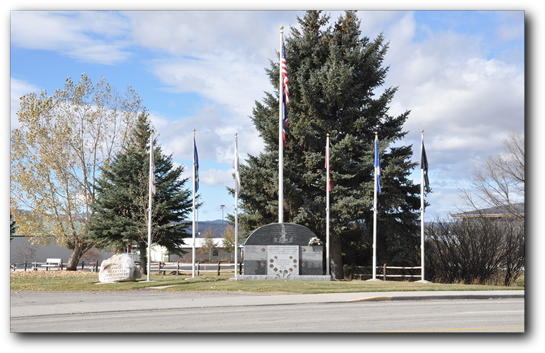 Calvert Allred
Charles T. Books
Doyle F. Draney
Wilford Heninger
Lavor Jenkins
Dale Kennington
William L. Moffett
Rex L. Olsen
Floyd Perkins
Hyrum Pringle
Korean War:
None
Vietnam War:
Stephen M. Gardner
Kermit Haderlie
Joseph L. Hart
Dale W. Johnson
Alma J. Stumpp
---
Transportation:
Transportation
by Esther M. Crook
Fifty years before its first settlement in 1879, Star Valley was known to trappers, pathfinders and mountain men who came in on horseback or foot. From 1856 until the late 1860's, emigrants bound for Oregon passed through over the Lander Cut-off, a road branching from the Oregon Trail. It is said that this trail led over smaller and less dangerous streams, besides being a little shorter than the main route further south. These emigrants traveled on horseback or in wagons and drove large herds of cattle.
In 1879, a small group of men came into the Valley over the road used to haul salt from a salt deposit, on what is now known as Crow Creek, from Bear Lake County in Idaho. After building log cabins, they returned to Bear Lake and got their families. This was a trip of about 150 miles with little or no road about half the distance. They brought eight wagons with them and the trip required three weeks. The Montpelier Creek had to be forded 26 times in a distance of six miles. Often furrows had to be plowed on the side hills for the upper wheels to keep the wagons from tipping over.
It was necessary to bring the winter's supplies in before the snow came as the roads were then blocked with deep snow until nothing could get through. Many times, people were caught in an early snow and had to cache their provisions and continue into the Valley without them. When it became necessary to have food from the cache, men went on snowshoes or skis to get it. Some of the early settlers made two or three trips to the cache or to Montpelier, Idaho, in a winter, and brought back 75 pounds of food per trip to actually save lives of the settlers. Men, women and children traveled on skis. *"Suicide Bend" early warning sign, circa 1920, pictured to right.
Up to the year 1888, there was no communications, mail or passenger service into the Valley. The mail was picked up by anyone making the trip in or out of the Valley. This often happened only twice a year. The mail would be left at some home until the other residents of the communities came by to pick it up. One year, mail was brought into the Valley in April telling of the death, in the first part of February in Ogden, of one of the settler's children.
In the summer of 1888, the settlers hired A. Lu. Hale to haul to and from Montpelier to Afton. Late in the summer of the same year a mail route was established by the government to bring mail semi-weekly to the people. The first few years of this service proved very difficult. Sometimes the mail was carried on foot or horseback instead of the desired way in wagons or sleighs. In this set-up, stations and camping places were necessary where the men who carried the mail could feed their horses, cook their own meals, and have a place to sleep; also, where other travelers could stay over night, if necessary. In the first winters of mail carrying, the snow became so deep in the part of the canyon nearing Montpelier the mail was hauled in sleighs to a camp known as "Half Way" and taken from there by men on skis. The men would leave camp at 6:00 am, travel with the outgoing mail rest and hour or so and return to "Half Way" with the ingoing mail. This trip required 24 hours travel. They carried the mail on their backs in waterproof sacks and, many times, blizzards caused them to lose their way; but storm or not, the mail went through though sometimes two or three weeks late.
There are some interesting stories concerning these stopping placs along the road. However, there is only space for a few of the names which will bring memories of adventure and thrill to those who traveled the freight and mail roads. Deer Creek, Couzens Ranch, Salt Works, White Dugway, Half Way, Samson's Tree, Beaver Canyon, Thomas' Fork, Caveen's Retreat, Whiskey Flat and Camp Give-Out were all well known to early travelers. Farther on we hear of Snowslide, the Elbo, The Falls and Montpelier Canyon. There was a cut-off sometimes traveled to avoid the dreaded Beaver Canyon. This way the traveler climbed the long divide out of Thomas Fork Canyon, took the Hale's Turntable, and scooted down the Devil's Dive hoping to land right side up in the bottom of the canyon.
The mail carrier's and freighter's task was difficult and dangerous. During some seasons, it was necessary to transfer loads from wagons to buckboards to sleds several times enroute. The mail carrier did not charge passengers extra for walking part of the way nor for pushing on the wagon up some steep hill.
At first, the responsibility for keeping the roads open in winter and passable the other seasons of the year, rested on the freighters and mail carriers. Almost every one who passed over the route carried a shovel, a pick, an axe and plenty of matches. Timber was plentiful, a fact that saved much suffering from the cold. Later-on, parties were organized to repair bad places in the roads. This was not too successful as the road was in three counties and the middle county had no particular interest in the road.
This era in which the products of the valley were freighted out and supplies were freighted in by team, was one of the most colorful in all Star Valley history. Many times there were camped at "Half Way" as many as 45 men and teams. In the evenings, around the bonfire, history was enacted that has surely left its influence upon the Valley.
Later, the roads were graveled. White top buggies became the favored method of travel by people entering and leaving the Valley. Several stage companies were organized. Horses were placed at stations along the route and with a change of teams one fairly flew along. The road was later changed to enter the Valley at the south end. The reason for this was that only one high divide had to be crossed and almost the entire road was in Wyoming, while the older road was in Idaho. After that, mail was unloaded at Cokeville, instead of Montpelier. In the late 1920's, a surfaced road was built from Kemmerer into the Valley and since then the hitching posts have disappeared and filling stations are all along the highway known as U.S. 89. A person by the name of Dr. Groom was the first to own an automobile in Star Valley. Now there are more per capita than in any other part of the State.
An interesting development in Valley transportation is that of getting pupils to school. In the consolidated district, over 55% of all students ride to school. This has not always been so. At first, from many homes there were no roads at all. The children followed cattle trails or trampled trails of their own through the deep snow. Many times steps had to be cut through the drifts before the children could leave home; at times, only the larger boys reached school. Summer schools were held for the smaller children. Lucky was the child that had a pony to ride to school or even owned a good pair of skis. As roads were built, neighbors took turns hauling the children to school and if a person had a good team and a covered sleigh with a stove in it, he could make good winter wages hauling students to high school at five dollars per person per month. In 1923, the district took over the transportation of school children in the entire valley. As the roads into the Valley were improved, the mail and passengers were transported in and out daily, first in Model T Fords then Model A's. To some of the older settlers this was an undreamed of advancement in travel.
With the change in the shipping point from Montpelier to Cokeville, and with the old dirt roads being replaced, first by graveled road then an oiled highway maintained by the State, trucks replaced the teams used in freighting and many people in the Valley enjoyed transportation equal to that in large cities.
Several private auto stage lines have been started. At first, private car owners made trips twice each week, then every day if there were passengers to haul. Later a bus company was chartered and made daily trips to Evanston and Montpelier; however, there was not enough travel to warrant its continuation. For several years there has been a daily bus line running to Idaho Falls, Idaho where it connects with the major bus lines traveling in every direction.
The discussion of transportation would not be complete without mention of the Callair Airplane plant in the Valley. This is the only one in Wyoming. This factory builds a very sturdy, lightweight, high altitude airplane, small enough to land almost anywhere. It is used extensively by the Forest Service for counting game. Emergency trips are made to the outside by these planes when necessary and an almost daily service is offered. This company also makes a snow car which skims along on top of the very deep snow at a high rate of speed.
---