Star Valley High School Yearbooks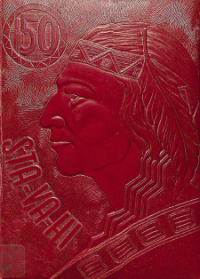 Overview: After an exhaustive search, we have been able to locate 83 of the 95 possible Star Valley High School yearbooks published during the period 1924-2015. These yearbooks have been scanned and are now available for your viewing in their entirety. As all high school yearbooks do, these offer a wealth of information regarding the culture, genealogy and history of the period.

We are still looking for the following years to complete our collection: 1925, 1926, 1928, 1929, 1930, 1931, 1932, 1933, 1934, 1935 and 1945. If you have or know the whereabouts of one or more of these, please contact us so that we can add them to our website.
Note: Some of thee are high-resolution, color PDFs, and are 20MB-50MB in size. Please give them time to download, and load in your PDF viewing program.
• SVHS Yearbooks, 1924, Vallis Stallarum, Vol 01.pdf
• SVHS Yearbooks, 1927, Our Star, Vol 02.pdf
• SVHS Yearbooks, 1936, Sta-Va-Hi.pdf
• SVHS Yearbooks, 1937, Sta Va Hi.pdf
• SVHS Yearbooks, 1938, Sta Va Hi.pdf
• SVHS Yearbooks, 1939, Sta-Va-Hi.pdf
• SVHS Yearbooks, 1940, Sta-Va-Hi.pdf
• SVHS Yearbooks, 1941, Sta Va Hi.pdf
• SVHS Yearbooks, 1942, Sta Va Hi.pdf
• SVHS Yearbooks, 1943, 40 Year Class Reunion.pdf
• SVHS Yearbooks, 1943, Sta-Va-Hi Jr.pdf
• SVHS Yearbooks, 1944, Sta-Va-Hi Jr.pdf
• SVHS Yearbooks, 1946, Sta Va Hi.pdf
• SVHS Yearbooks, 1947, Sta-Va-Hi.pdf
• SVHS Yearbooks, 1948, Sta Va Hi.pdf
• SVHS Yearbooks, 1949, Sta Va Hi.pdf
• SVHS Yearbooks, 1950, Sta-Va-Hi.pdf
• SVHS Yearbooks, 1951, Sta-Va-Hi.pdf
• SVHS Yearbooks, 1952, Sta-Va-Hi.pdf
• SVHS Yearbooks, 1953, Sta-Va-Hi.pdf
• SVHS Yearbooks, 1954, Our Star Valley.pdf
• SVHS Yearbooks, 1955, Sta-Va-Hi.pdf
• SVHS Yearbooks, 1956, Sta-Va-Hi.pdf
• SVHS Yearbooks, 1957, Sta-Va-Hi.pdf
• SVHS Yearbooks, 1958, Sta-Va-Hi.pdf
• SVHS Yearbooks, 1959, Sta-Va-Hi.pdf
• SVHS Yearbooks, 1960, Sta-Va-Hi.pdf
• SVHS Yearbooks, 1961, Sta-Va-Hi.pdf
• SVHS Yearbooks, 1962, Sta-Va-Hi.pdf
• SVHS Yearbooks, 1963, Wiki-Up 63.pdf
• SVHS Yearbooks, 1964, Wicki Up 1964.pdf
• SVHS Yearbooks, 1965, Wicki-Up.pdf
• SVHS Yearbooks, 1966, Wicki-Up 1966,.pdf
• SVHS Yearbooks, 1967, Wickiup Sixty Seven.pdf
• SVHS Yearbooks, 1968, Wicki-Up Basketball Wrestling Football 68 State Champs.pdf
• SVHS Yearbooks, 1969, Wicki-Up 69.pdf
• SVHS Yearbooks, 1970, Wicki Up 70.pdf
• SVHS Yearbooks, 1971, Wicki Up 1971.pdf
• SVHS Yearbooks, 1972, Wicki-up 72.pdf
• SVHS Yearbooks, 1973, Wicki-Up.pdf
• SVHS Yearbooks, 1974, Wicki-Up 1974, Vol 50.pdf
• SVHS Yearbooks, 1975, Wicki-Up, Vol 51.pdf
• SVHS Yearbooks, 1976, Wicki-Up 1976, Vol 52.pdf
• SVHS Yearbooks, 1977, Wicki-Up 1977, Vol 53.pdf
• SVHS Yearbooks, 1978, Wicki-Up 1978, Vol 54.pdf
• SVHS Yearbooks, 1979, Wicki-Up Our Town Stage Door, Vol 55.pdf
• SVHS Yearbooks, 1980, Wicki-Up Signs of 1980, Vol 56.pdf
• SVHS Yearbooks, 1981, Wicki-Up You're Lookin' Good, Vol 57.pdf
• SVHS Yearbooks, 1982, Sta-Va-Hi 82 Starring You, Vol 58.pdf
• SVHS Yearbooks, 1983, A Time To Shine, Vol 59.pdf
• SVHS Yearbooks, 1984, Our Best Is Showing, Vol 60.pdf
• SVHS Yearbooks, 1985, Inside Shots, Vol 61.pdf
• SVHS Yearbooks, 1986, The Ultimate, Vol 62.pdf
• SVHS Yearbooks, 1987, Rated X-cellent, Vol 63.pdf
• SVHS Yearbooks, 1988, Check Us Out 88, Vol 64.pdf
• SVHS Yearbooks, 1989, Call It An Obsession, Vol 65.pdf
• SVHS Yearbooks, 1990, Slightly Twisted 1990, Vol 66.pdf
• SVHS Yearbooks, 1991, Perspective, Vol 67.pdf
• SVHS Yearbooks, 1992, The Long And The Short Of It 1992, Vol 68.pdf
• SVHS Yearbooks, 1993, All The Right Seasons, Vol 69.pdf
• SVHS Yearbooks, 1994, A Passionate Look 1994, Vol 70.pdf
• SVHS Yearbooks, 1995, Silently Square, Vol 71.pdf
• SVHS Yearbooks, 1996, Running Out Of Room, Vol 72.pdf
• SVHS Yearbooks, 1997, Inside, Vol 73.pdf
• SVHS Yearbooks, 1998, One Last Look, Vol 74.pdf
• SVHS Yearbooks, 1999, Under Construction, Vol 75.pdf
• SVHS Yearbooks, 2000, Finishing Touches, Vol 76.pdf
• SVHS Yearbooks, 2001, Speaking Weekly, Vol 77.pdf
• SVHS Yearbooks, 2002, Brave Perceptions, Vol 78.pdf
• SVHS Yearbooks, 2003, Deep Thoughts & Fuzzy Memories, Vol 79.pdf
• SVHS Yearbooks, 2004, Pieces of Us 2004, Vol 80.pdf
• SVHS Yearbooks, 2005, Looking Forward To Looking Back, Vol 81.pdf
• SVHS Yearbooks, 2006, Layers 06, Vol 82.pdf
• SVHS Yearbooks, 2007, Exposed 07, Vol 83.pdf
• SVHS_Yearbooks_2008_WritingOnTheWall_Vol-84.pdf
• SVHS Yearbooks, 2009, Driven, Vol 85.pdf
• SVHS Yearbooks, 2010, No Borders, Vol 86.pdf
• SVHS Yearbooks, 2011, Bravely Bold, Vol 87.pdf
• SVHS Yearbooks, 2012, Branch Out, Vol 88.pdf
• SVHS Yearbooks, 2013, The Final Countdown 2012, Vol 89.pdf
• SVHS Yearbooks, 2014, Wiki-Up Are We There Yet, Vol 90.pdf
• SVHS Yearbooks, 2015, Wicki-Up 97 Unplugged, Vol 91.pdf
• SVHS Yearbooks, 2016, Brave Wanderings, Vol. 92.pdf
• SVHS Yearbooks, 2017, Becoming Brave, Vol. 93.pdf
• SVHS Yearbooks, 2018, Together We Grow, Vol. 94.pdf
• SVHS Yearbooks, 2019, Infinite, Vol. 95.pdf
• SVHS Yearbooks, 2020, Long Live The Brave, Vol. 96.pdf